Rediscover warm memories... of cool cabin shade and lazy hot days just made for fishing and hunting... of fresh, clean air and the sound of the wild.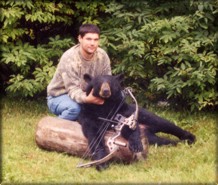 Camp rentals, bear, deer, moose, and grouse hunting, fishing, canoeing, relaxing, sight seeing and housekeeping cabins.

In the heart of the Allagash and Fish River Waterways.